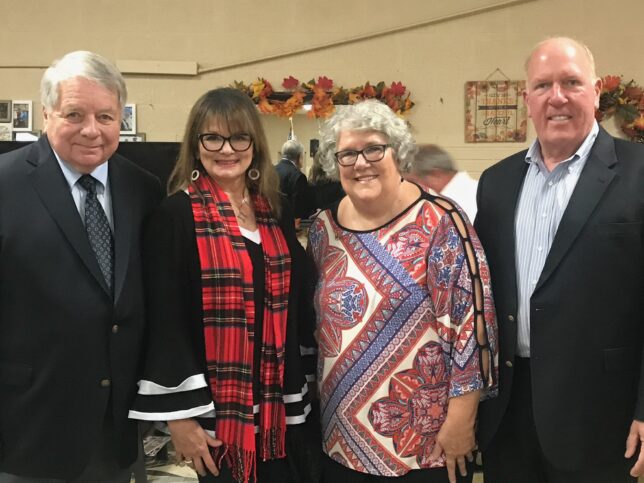 (I had the honor of giving the keynote address last night at 6th Annual Ned Ray Day in Dresden, Tennessee. Here is the entire text of my speech.)
I miss his effective leadership…
His caring heart…
His ease along style…
His impeccable integrity…
His plain talk…
His ability to reach across the aisle…
The list goes on.
The point is that Ned McWherter was a gentle giant who made a difference. He was a powerful leader who bettered the lives of tens of thousands of Tennesseans.
Ned McWherter knew who he was. He was a proud man, comfortable in his own skin. What you saw was what you got.
A work horse, not a show dog. He didn't have a bunch of degrees following his name, but he had street smarts and common sense that money could not buy.
I suspect everyone in this room tonight would agree that the turbulent times in which we live today make us miss Ned more.
Today, too many politicians are stirring emotions; Ned McWherter was always a voice of reason.
Today, too many politicians are mocking and ignoring the rule of law; Ned McWherter always respected and enforced the rule of law.
Today, too many politicians cling to partisanship; Ned McWherter consistently reached across the aisle.
Today, too many politicians are playing loose with the truth; Ned McWherter was a man of his word.
Today, too many politicians are lacking in courage to do what's right; Ned McWherter never hesitated to stand up for his beliefs.
Yes, we live today in a much different world than the one Ned McWherter knew and loved. I have no doubt that he would be appalled by the mean-spirited political rhetoric of our time. He would be saddened by the spectacle of a Tennessee House speaker being forced to resign in disgrace. He would be offended by the inability of politicians to work together for the common good.
In this context think for a moment a what if – what if a Ned McWherter in his prime were back with us.
As House speaker or Governor, even in today's crazy political environment, I honestly believe Ned McWherter could seize the moment with his voice of reason and common sense approach to government leadership.
In a political world populated today with too few statesmen and too many sycophants, Ned McWherter would stand tall, a lighthouse in a troubled sea.
For an electorate growing increasingly concerned about frenetic political leadership bouncing from one crisis to another, Ned McWherter's ease along approach to decision making is precisely what our country needs.
I could go on, but I believe the point has been made: Ned McWherter was natural born leader for any season, any circumstance, any environment.
What made him special? In my view, it was his ability to build trust, earn respect, and communicate. He was able to do all three with people from all walks of life.
Like many of you, I was with him in many settings – the open fields of rural Tennessee, the streets of inner cities, the lofty corporate offices of Fortune 500 companies, the black tie social events.
In all of those settings, and many more, Ned McWherter was always the same – humble, polite, astute, straightforward, and attentive.That's how he was so successful in building trust and earning respect with friend and foe alike.
While too many political leaders of today seem to thrive on being devisive, Ned McWherter knew how to bring people together. That was his passion and commitment. That was his trademark.
Perhaps his greatest strength was his ability to communicate. Quite simply, he was the best communicator of my lifetime. He always seemed to know exactly what to say and how to say it.
Who in this room will ever forget the words that became his first campaign for governor slogan:
"Swear me in at 10 in the morning, give me four vanilla wafers and a cup of coffee, and I'll
be ready to go to work."
Those were not the words of some slick public relations consultant. They were the words of Ned McWherter –simple but powerful. With those few words and a box of vanilla wafers, he effectively made the point that he was prepared to be governor on day one. No on the job training would be required for him. The message became perhaps the strongest symbol of his campaign.
Even to this day, every time I see a box of vanilla wafers I think of him.
His effectiveness as a communicator was underscored by the unusually strong relationship he had with the Capitol Hill press corps. That may seem strange in the context of the daily and bitter fight between the media and our current president. But in Ned McWherter's world it was a natural. He simply opened the doors of state government to the media.
He was cordial, fair, and candid. The Capitol Hill press corps clearly trusted, respected, and loved Ned McWherter.
The relationship was so strong that he could get away with some playful banter with the media. It was not unusual for him to invite the press corps into his office by proclaiming "ok, you dog asses. Come on in."
To do that, the relationship had to be good, and indeed it was.
That was vintage McWherter.
I shall never forget my last conversation with him.
It was the day of the unveiling of the McWherter statue on the public square. It was a bittersweet moment for all who loved him. Despite his failing health, he stood tall that day, delivering a powerful speech.
Later at the reception at his home, he sat in a chair and greeted everyone with that famous big smile. When my turn came, we shook hands. He looked up at me and said: "Commissioner, a lot of good things said about our education program today. I'm proud of what we did."
Those were his last words to me – words I will forever cherish and remember.
None of us in this room tonight will ever forget Ned McWherter.
Of course, we miss him.  We always will.