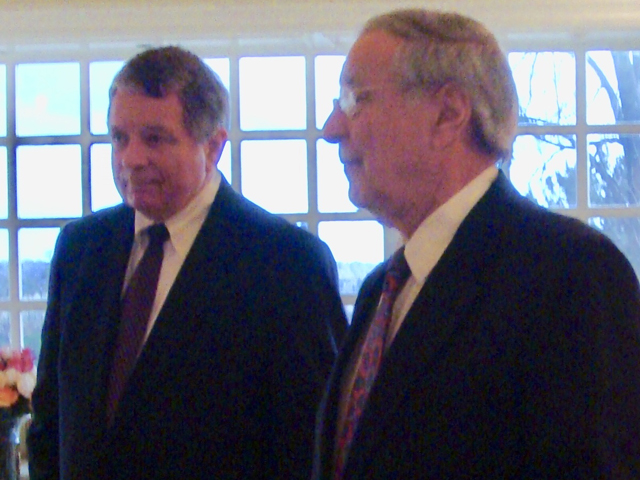 My post-retirement Washington experience defies traditional explanation and interpretation. My pathway to Washington was paved with early intrigue, surprise, irony, and gratification. It began with the call from longtime friend Mark Musick. As with most of my career moves, I did not see his proposition coming. Having just lost a race for governor and settled into retirement, the last thing I had on my mind was a new career opportunity, particularly in Washington, DC.
My interview with the National Assessment Governing Board went extremely well. I sensed strong bonding and comfortable relationships during the two-hour discussion. I had worked closely with Chairman Musick and Vice Chair Michael Nettles for several years during my years in Tennessee.
A couple of weeks following the interview, Musick called me with the word that I was the unanimous choice of the Board. At the time of the call, Shawna Lea and I were in Chicago for a couple of days of baseball at Wrigley Field. I thanked Musick and told him I would get back to him in the next several days.
At that moment, I noted a sense of urgency in the voice of a normally calm Musick. He told me that it was important that I make a decision quickly, in any event no later than October 1. I promised I would do so, but I was puzzled by the timeline.
What I didn't know was that the Bush administration had decided not to reappoint Musick as chairman and that a fellow named Darv Winick, a longtime Bush family loyalist, had been selected to replace Musick on October 1.
So, as often happened when I made career moves over the years, drama and uncertainty intervened in my life. Musick was out and a total stranger to me was in. For obvious reasons, I began to doubt that I had made the right decision.
However, concern was replaced by enthusiasm in short order. Quick research on my part found that Winick was a well-respected thought leader and educator in Texas. He had led the effort to staff the U.S. Department of Education when George W. Bush became President and was instrumental in the drafting of Bush's No Child Left Behind initiative.
Of special relevance to my new role, Winick played a major role in making the National Assessment of Educational Progress (NAEP) and the National Assessment Governing Board (NAGB) major players in the NCLB program. It quickly became clear to me that my upcoming role as executive director was an opportunity to lead a high-profile initiative that was certain to be played out on a national stage.
While the opportunity was clear, the relationship that I would have with Winick and the Bush administration was uncertain at best and risky at worst. Thankfully, I did not have to wait long to determine how I stood with the strangers who would become my bosses on January 1, 2003.
The first signal came while my son, Chip, and I were attending an Atlanta Braves NLCS playoff game with the San Francisco Giants on October 1, 2002. On his first day as the new NAGB chairman, Winick called me just as the game began and the noise level was deafening. It was an awkward moment, but I quickly retreated to a quieter part of the stadium and accepted his very gracious congratulations.
That positive note was repeated and amplified when we had our first meeting in Washington the following month. Shawna Lea and I were invited to attend the NAGB Board meeting in Alexandria as special guests. Winick planted his flag quickly and firmly as chairman and then, surprisingly, gave me a rousing and enthusiastic introduction, stating among other things, that if the Board had reached out to central casting for executive director they could not have found a more qualified candidate.
When the board broke for lunch, the first person who came over to introduce herself was Beth Ann Bryant, a name I recognized immediately as the Bush administration's political operative inside the U.S. Department of Education. I didn't know what to expect, but the suspense was relieved in short order.
Bryant told me bluntly that my candidacy had originally caused some "heartburn" in the Bush White House, but she smiled quickly and told me that they had checked me out thoroughly and that I had obviously passed the test. It was heartwarming to hear directly from her that Senator Lamar Alexander had given me a "big thumbs up" and that Governor Don Sundquist had told her that they could not find anyone more capable of working across political party lines, which I had demonstrated in my years of leadership in Tennessee.
Shawna Lea and I left DC that weekend with strong enthusiasm, hope, and expectation regarding our upcoming career move. We were never disappointed during my two terms as executive director. From day one, Winick and I were on the same page in our quest to make The Nation's Report Card a consequential part of the No Child Left Behind initiative. And we succeeded.
In six years together, Winick and I never had a single major disagreement. Although he was a Bush loyalist, he never injected politics into anything the Board and I did. Although we were strangers at the beginning, our relationship evolved quickly into one of mutual respect and friendship. The specifics of what we accomplished is a story for another day, but the lesson from this experience is simply to never fear the unknown and always be willing to accept risks in career moves.
-adapted from Journal of a Fast Track Life, Chapter 31, © 2018 Charles E. Smith. All rights reserved.