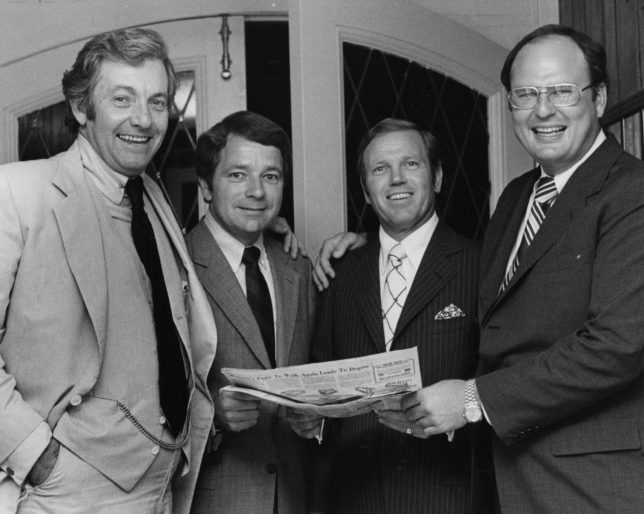 One of the questions most often asked of young people is, "What do you want to do when you grow up?" Initially, I had a passion to be a play-by-play announcer of sporting events. As an undergraduate, I majored in broadcast journalism and had the opportunity to broadcast the University of Tennessee's basketball and baseball games on the student radio station.
That dream evaporated upon graduation for two reasons: (1) I quickly found out that the trip to the top of the profession in broadcasting started typically at a small radio station as a disc jockey playing the "top 40," a role that had no appeal to me, and (2) my best job opportunity after college was the editorship of a weekly newspaper in my hometown.
The "printer's ink" permeated my system almost immediately upon assuming my role as editor. Within weeks, it became clear to me what I wanted to do with my life. I set my sights on becoming an editor of a major daily newspaper.
My plan was to do the best job I could as a weekly newspaper editor under the watchful eye of my boss, Coleman Harwell. Colie, as he was known, was a well-respected journalist who was connected across the nation with the movers and shakers in the profession. The weekly newspaper was my mechanism to build a foundation of experience.
The next logical step was to parlay the weekly experience and my association with Colie into a promotion to a major daily, preferably the Nashville Tennessean. With Colie's help, I made it to the Tennessean, where for four years, I received the equivalent of several doctorates as I served in a variety of roles, including news editor.
I concluded that if I really wanted to be an editor, I needed to step out of the newsroom and gain some experience as an insider in other professional worlds. After considerable thought, it occurred to me that the major areas of newspaper coverage were politics, government, and education. With that in mind, I charted the pathway I would take in my journey to an editorship.
My first step was to take a position in 1967 as an administrator with the University of Tennessee, with an eye already focused on step two: serving as press secretary for a major Democratic candidate for governor in the upcoming 1970 campaign, which was a strong possibility because Seigenthaler was the candidate's best friend and confidante, and he knew of my interest and ambitions.
Indeed, at the beginning of 1970, I received the call to serve as press secretary. The university granted me a leave of absence, and I was off to the races. My candidate won the primary but lost the general election. It was a major setback in my game plan.
However, the university that had granted a leave of absence chose to make me chancellor of one of its campuses, and I was back on track, waiting for the moment of fulfillment. Five years as chancellor passed, when, suddenly, two things happened to open the door.
The university campus where I served as chancellor was knee-deep in a federal desegregation lawsuit that was about to lead to a merger that would put my institution out of existence. On the very day that the Supreme Court chose not to hear our appeal, ending for good any hope that we had to survive, I received a phone call in Washington from Dan Coleman. He advised me that John Hooker – the same John Hooker for whom I had served as press secretary at the beginning of the decade – was poised to buy the Nashville Banner.
As soon as my plane landed back in Nashville, I called Hooker from a pay phone at the airport. He said he wanted to talk with me about becoming editor. All at once, the proverbial dog seemed to have caught the car. I was ecstatic, suddenly realizing that my long-time dream was within reach.
But the last step was not an easy one to take. A couple of complications immediately surfaced. Ed Boling, the president of the University of Tennessee, wanted me to become chancellor of another campus in the system. At the same time, I learned that John Hooker would have two partners, neither of whom I knew.
Initially, it appeared to be a no-brainer for me. Within my grasp was the fulfillment of my dream. Moreover, accepting the offer to become chancellor of another university would require uprooting my family from a city we loved to move to a small rural community in West Tennessee. I was prepared to say no to the president, but he was persistent. He asked that I at least spend a couple of days on the campus for interviews to see if that would generate interest.
I agreed to do that, and after two days of intense interviews with scores of constituents at the campus, I began to waver a bit. The comfort level I achieved during the visits blended with some growing doubt about the partners of John Hooker. Working for Hooker was something I knew would be comfortable for me, but I was not at all sure that he would be in charge. His partners, both wealthy businessmen with no experience in journalism, appeared to be very strong personalities. Conflict between Hooker and his partners seemed inevitable, even before the deal was consummated.
I decided to make another trip to the campus for a second look, which convinced me that the chancellorship was the right choice. All that was left to do – we thought – was to find some way to break the news to my dear friend John Hooker. However, that evening, an incredible, stunning event occurred that changed everything.
My wife and I had been invited to attend what we thought was a routine dinner with the three owners of the Banner and their wives. It was a pleasant evening, with dinner at one of Nashville's most exclusive restaurants. Everything seemed normal. Then, as we waited for dessert, the three owners left their seats and disappeared into another room, leaving my wife and me and their three wives at the table.
Upon their return, John Hooker took a champagne glass in hand and proposed a toast to the new editor of the Nashville Banner. I looked at Shawna Lea, and she looked at me. My mind was racing. What do I say? What do I do? Should I graciously accept the toast and explain later? Or should I break the news that I am going to West Tennessee?
I decided to respond graciously and hope for the best. As we left that night, Shawna Lea and I knew we were in a dilemma, and there was no good way out. In a sense, circumstances had trumped reason. I was trapped.
After a restless night, we decided that it was meant to be that I become editor. After all, that had been my long-time dream. So, instead of going to Hooker to say no, we drove to Knoxville to say no to Ed Boling. What a turn of events, the strangest moment of my life.
The editorship of the Banner was an incredible roller coaster ride. As envisioned, Hooker and his partners disagreed on practically every matter. All three tried to win me to their way of thinking, and I could see that I was caught in the middle of a tremendous power struggle that Hooker would eventually lose.
I was miserable.
Then fate intervened once again. I received a call from the chairman of the search committee for the new chancellor in West Tennessee. His question to me was very simple: "Would you be willing to take a second look?"
To make a long story short, I made another trip to West Tennessee, and in a matter of days I was once again a chancellor. Behind me was a brief four months of doing what I thought was a fulfillment of a life-long dream.
The lesson is very simple: Be careful what you wish for, or as the proverbial dog learned the hard way, make sure you know what you are going to do when you catch the car.
-adapted from Journal of a Fast Track Life, Chapter 26, © 2018 Charles E. Smith. All rights reserved.